The disconnect between tech and politics and the invisible hand.
#34
Happy Sunday from sunny Stockholm and welcome to another edition of Sunday CET!
This a long-ish piece, folks, but it's packed. Enjoy!
MENU
Observations, research and data
Notable deals
Interesting bets
Books and other reads
---
Observations, research, data
🇫🇷 Here's a scenario for Europe:
1. There's a big worldwide fragmentation going on i.e. US vs everybody, within EU, Russia and China meddling etc and that would lead to trade barriers, travel frictions and cultural misunderstandings.

2. Politics would lead to a slow down of cross-border investments, American investors will be deterred to have a global approach and favor a US-centric focus, w/ more ops triggered by the covid crisis within the 52 states.

3. EU founders will have to learn to live without the rest of the world and will have free rein on their own local markets, inventing Europe-centric models.

4. The EU investors will learn to cope with less impressive returns, and investors from outside the tech world will back startups whose risk-adjusted returns they recognize as more familiar.
Authored by Nicolas Colin, you can read the entire piece here.
It is a scenario that looks a bit like a politician's calculation. And then you read about how France plays the prey role for foreign buyers, shake your head and think Nicolas could be right, we'd better gun up.
Here's what I think: that drama ain't going to happen. The French are over-reacting (both Nicolas and the state) and the world of tech, both as business and as asset class, is a bit bigger and more complex than that.
And here's why: there is a big disconnect between politics and the tech world.
Tech is decoupled from politics
The tech ecosystem has developed tremendously in the past 15 years, in spite of the shitty politics from across both ponds.
That is the very reason for which governments want to regulate Google and Facebook. The gap is so big between the two worlds that the politics is out of control.
More regulation and protectionism will not narrow it down, au contraire, it will force tech to be more creative, they invent things for a living after all. And yes, US is a very different beast than Europe but smart people adapt.
Europe is already local-centric and it's not really working out
There's two types of entrepreneurs - the ones who think locally and the ones with global ambitions.
Europe's default was very local until we started to have access to the internet and real benchmarks. Arguably, today we have not gone that far and most of the founders here are still too country-centric, doing stuff locally and waiting for outside inspiration, copying or adapting from the Silicon Valley. This is as opposed to being a leader, pioneering and creating something on our own and conquer the world with it. It is a mentality thing, we talked about this. Copying Silicon Valley has become an obsession - being competitive is good but I mean how about inventing something from your head and lead the way, like they do.
Heavy protectionism is exactly not being competitive. Copying the other guys but without competing with them will be worse off for consumers - less worse choice - and for the investors - where will the exits come from? Add to that that most of the early stage investment funds are already heavily subsidized by the EU. The loop is closed.
And btw what the hell stopped Euro startups until now to get "free rein on their own local markets"?
Nothing, really - that is just another way to complain that they can't keep up with competition as they're out-innovated.
Think about it - Europe is the place where the Germans founded Rocket Internet to copy all SV ideas and where the French keep cloning Google, Airbnb and Amazon or whatever cool toys the smart kids invent and they can't. Throwing money at a problem doesn't automatically solve it - you also need a different mentality.
Uhm, Johnny, have you seen this cool stuff those guys did in America, it makes a lot of money, let's copy it quickly in Europe and trick those suckers to buy us if they come over here!
Anonymous European VC investor looking at scooters circa 2018.
That is the usual European approach - and don't get me wrong, being opportunistic is not bad at all and can definitely be a very lucrative strategy.
And, besides this mentality, we complain that we have the inability to expand to foreign markets, which is usually bad management, caused by not understanding the cultural differences. And not only from UK or Germany to US but also from France to Italy or Scandinavia. Of course, it's also the other way around i.e. Yelp, Uber coming to EU etc etc. They even teach international expansion in schools nowadays.
There's also good news
There is more and more European founders thinking big rather than small. Every day more evidence shows up - it is an irreversible process, again, in spite of politics, Trump and Brexit and the racist idiots from around us making life a zero sum game.
Yes, geo-politically we are at a global turning point. Brexit, Trump, China, Russia - all because the politicians would like to explore opportunities globally with new kinds of regulation and public policy. It's a stress test for EU's unity as well. This may not be a bad thing either.
But follow the money - the top guys are backed by the power poles, namely the investors. Arguably, politicians raison d'être is to help people with money make more money. And now, as opposed to 15-20 years ago, there's more money to be made internationally than locally, it's a simple arbitrage fact. Especially in tech, which is easier to scale.
As an anecdote, I have never seen my friends who run hedge funds or big fat pension funds more bullish in spite of the covid situation. That is because:
i) in general the balance sheets are clean and
ii) there's never been such an aligned and concerted governmental effort to get over the hump since WWII.

Even the US stock market is not really affected by the BLM-related events happening these days over there. It is weird but that is the investors sentiment - probably because the latest US employment numbers are better than expected.
There is a lot of fresh powder on both sides of the ocean.
When I say I lot, I mean probably the most VC money it has ever been available to deploy in the world. And when the stakes are so high, no professional VC investor from anywhere will settle for "less impressive returns and local familiar business". Do you think VCs convinced their LPs to give them billions of dollars with fund-the-next-Google and the-world-is-flat theories to just settle and "cope with less impressive returns"? VCs have a mandate to take risks and their job is to maximize the portfolio's returns, as simple as that.
The whole logic of raising venture money is scale and grow as quickly as possible across as many markets as possible. You don't even need VC money to build a mobility service available in Paris and Lyon, with optionality to expand to the south of France. A few angels will do.
Location has become less important.
You can build stuff from anywhere and sell it anywhere without even traveling there. The WFH has become normal these days because of covid, but that's a train that was already coming.
It has never been easier to open companies, set bank accounts, get customers and build networks in a foreign country. It's a fact.
Another anecdote - in the past few years I have moved and lived in three different countries on three different continents for a few months in each and have built network and business without knowing anybody there. And I am just a small cookie.
The tech infrastructure as the invisible hand in the startup world.
I don't agree with Nicolas' hypothesis but I do share some of his underlining skepticism and sometimes have an acute sensation of end of the world when I check the news. It is in real time, and simultaneously from different parts of the world - it is as if you're in the middle of all of it and you get swallowed by a bad movie.
We need to change many things in the world but when you get back to work, you realize that actually change starts with you and your own contribution and attitude, and that the ball is still rolling on and we progress each day.
But I don't think, tech-wise, we will see a geo-fragmentation. Even the covid period shows us that if there is a will there is a way and biz starts to get done all over the world, in spite of the quarantine, lack of travel, BLM protests or even people dying because of the flu. We adapt and that is the beauty of tech-enabled business - the tech stack has become a solid infrastructure which acts as an invisible hand for the startup world.
Add to that plenty of smart people willing to tackle big important problems in a collaborative way. And, unlike in politics, in the tech world people mostly create value don't destroy it, as they work together and help each other no matter their location. And, not least important, there's plenty of money available to fund solving those problems.
It's a great time to be alive.
🇫🇷 Robin wrote a polite overview about how the French startup accelerator The Family failed to make a business with European founders as customers.
From what I gather, The Family was in fact an event company which also had some money to invest - unlike the tons of accelerators out there, they actually managed to raise €15 million on the side, to be able to invest in some of their customers as well.
But that didn't change the business model and now they had to fire employees and to stop paying office rent. The Family employed 24 people based in 3 countries - maybe a decent size for an event organizer but huge for a 15 mil. investor.
And I don't know about you guys, but I'd find it a bit odd to take business advice from an investor when his own business is not working out.
🇫🇷 Twitter Inc. would be welcome to move to France should the social-media platform face an adverse operating environment in the U.S.
You gotta give it to the French, they are persistent. :D
🇪🇸 Orca Studios built in Gran Canaria a virtual production facility that uses the same LED volume technology as Disney's The Mandalorian.
The LED wall volumes create exterior or interior images that adjust in sync with camera movement, powered by video game PC engines. Pretty cool.
🇸🇪 Even Google has opinions about the Euro startup funding environment post-covid these days. Spent some marketing money for it.
🇪🇺 Why more funds should consider launching scout programmes in Europe?
🇬🇧 For UK startups raising their 1st round - you can pitch them online, once a month.
🇸🇪 In 2009, Sean Parker wrote an email to Daniel Ek about Spotify. Here it is.
🇸🇪 Speaking of Daniel, here's a video interview with him talking about Spotify transitioning from music towards an audio company.
🇫🇷 Podcast app Majelan pivots from a podcast aggregator to premium audio content around personal growth. They raised €10 million from Idinvest and BPIFrance.
🇪🇺 The European consumer startups map 2020
🇪🇺 ebikes in Europe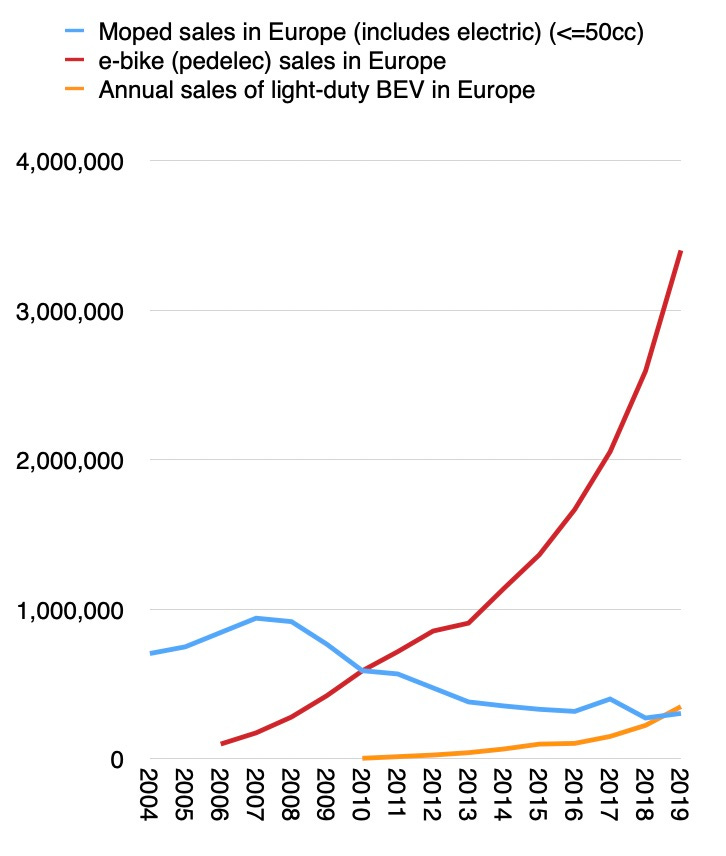 🇪🇺 In August, Mediapro and TF1 will launch Telefoot, a football-only channel, priced 25 euros per month, with the aim to reach 3.5 million subscribers.
🇬🇧 What would you do if you were the CEO of Facebook? thread
More:
---
Notable deals
🇹🇷 Zynga acquires Turkey's Peak Games for $1.8B. What's important:
Everybody happy, lots of hot takes all around, the best written story is over at Techcrunch.
🇮🇱 The Israeli mobile gamer Playtika is prepping for an IPO with goals of raising $1B at a $10B valuation. Playtika is owned by a Chinese investor group.
🇨🇭 BOND Mobility, a premium station-less E-Bike sharing operator, acquired e-motionlabs, a micromobility technology company.
🇸🇪 PayPal invests more in Tink.
🇮🇹 FLEEP Technologies, which develops technology for printed electronics, closed a €800k seed round investment.
🇩🇪 Bryter, a no-code platform based in Berlin, raised $16 million in Series A round co-led by Accel and Dawn Capital, with Notion Capital and Chalfen Ventures also participating.
🇪🇸 Zeleros Hyperloop raised €7 million to build a supersonic train.
🇬🇧 Tictrac secures $7.5M to expand employee wellbeing platform as WFH balloons
🇨🇭Appway raises $37M, its first-ever funding, after bootstrapping and being profitable since 2003. About the same valuation as Spanish Freepik, sold to PE last week.
🇫🇷 Accenture finalised the acquisition of Gekko, a French Amazon Web Services (AWS) cloud services company. I mentioned about Accenture being aggressive in the M&A market a few weeks ago.
🇩🇪 US-based Cruise acquired the German radar company Astyx, a spin-off of Daimler Benz Aerospace.
🇪🇺 Self-driving vehicle startup Argo AI completes $2.6B deal with Volkswagen, expands to Europe - best take from Rodolfo:
This is a complete exact replica of what happened with Symbian and the mobile phone industry
first: ignore the problem,
second: do not rearchitect yourself as a software company,
third: all the incumbents pool money so they don't have to change,
four: a they lose

More money in the market
🇬🇧 C4 Ventures announces €80 million fund, led by former EMEA head of Apple Pascal Cagni
🇳🇴 Alliance Venture announced a $60 million fond and opening a new office in Stockholm.
---
Interesting bets
🇩🇰 platform for meetings in interactive VR spaces
🇩🇰 If you ever wondered about Greenland's startup ecosystem, meet Usisaat, which provides household relocations services. They raised money last month. Greenland is technically part of Denmark.
🇩🇪 3D printer with clean room integration
🇮🇱 software platform tracking product strategy intelligence (they just raised)
🇫🇷 world's first universal and efficient wireless charging technology
for all workspace devices.
🇳🇴 developer of an open-source editing environment that you can customize with JavaScript and a real-time hosted data store
🇳🇴 AI-based SAAS for heavy-asset industries
🇨🇭 mobile platform connecting growers, their suppliers and crop purchasers into a single network
🇬🇧 in-memory graph database engineered to power real-time operational graph applications
🇬🇧 digital freight forwarder (launched by former Uber guys and backed by Jeff Bezos)
---
Books and other interesting reads
📚 Books
🗞️ Interesting
stuff
Happy Sunday!
---
Thanks for reading 🙌
This email is a labour of love - please reply with comments and feedback, or helpful suggestions for future editions.

Created every Sunday by @drnovac. Please share it with your networks and encourage your colleagues to sign up here - thanks!